Order Hair Loss Treatment Online
What is Male Pattern Hair Loss?
Male pattern hair loss or baldness is the common type of hair loss that develops in most men at some stage. It usually takes 15-25 years to go bald. However, some men go bald in less than 5 years. Typically, at first the hair begins to recede (thin) at the front. At the same time, the hair usually becomes thin on the top of the head. A bald patch gradually develops in the middle of the scalp. The receding front, and the bald patch on the top gradually enlarge and join together. A rim of hair is often left around the back and sides of the scalp. In some men, this rim of hair also thins and goes to leave a completely bald scalp.
Clinical evidence has found that a hormone called DHT (dihydrotestosterone) plays a key role in the development of male pattern baldness. While this hormone is essential for proper genital development in male babies, high DHT levels in adult men contribute to the shortening of the hair growth phase, ultimately thinning the hair until hair is no longer grown from the follicle. The drug Propecia (finasteride) works by inhibiting DHT levels in the scalp and interrupting the natural progression of male pattern baldness.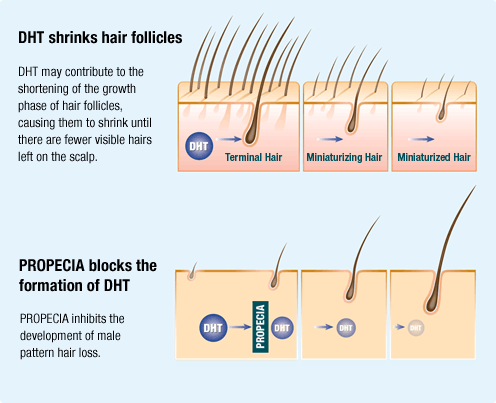 Image source and copyright: Merk & Co.
All services provided by Anytime Doctor are safe, fast and confidential. You can obtain treatment within the privacy of your home and without the inconvenience of waiting for an appointment.
Read more
Genuine medication prescribed and dispensed by UK GPs and pharmacy
Free next day UK delivery
Discrete service, no face to face appointments needed
View Treatment Options
Treatment Options
Propecia is a branded version of the drug finasteride
Works to reduce the hormone DHT which is associated with male pattern hair loss
Suitable for men only
Start Consultation
Finasteride is the generic form of Propecia
Works in the same way as Propecia
Suitable for men only
Start Consultation
How the service works
| | Just 4 simple steps |
| --- | --- |
| Complete consultation | Complete a free online medical consultation. Your answers provide our doctors with the information they need to safely recommend the right treatment for you. |
| Choose treatment | A doctor will review your consultation and, if it is safe to do so, approve you for treatment. Our doctors will suggest suitable treatment options, including dosage and treatment duration. Select your medicine and complete your order using our secure payment system. |
| Prescription issued | All prescriptions are sent electronically to our UK based partner pharmacy, ready for dispatch. Our partner pharmacy is regulated by the General Pharmaceutical Council and only dispenses genuine branded medicines licensed for use in the UK. |
| Medicine delivered | Medicines require a signature upon delivery. Most orders are dispensed and dispatched for delivery the next working day. All orders are sent using discrete packaging with no mention of Anytime Doctor or the parcel content. Upgrade to same day delivery for orders within the M25. |
All of our prices are fully inclusive. When buying your treatment online our price includes the cost of the consultation, the issuing of a private prescription, dispensing of the medicine itself, free delivery and doctor after-care. There are no hidden extras.
We aim to offer you similar pattern of healthcare as if you were to visit your normal GP for a face to face consultation. We believe it is important that you complete a medical consultation to ensure that the treatment option you are requesting is appropriate for your needs. Our GMC registered doctors are also able to suggest treatment options for you if you prefer. Once a doctor has approved you for treatment all prices are clearly displayed. Your medical consultation and registration is free and you are under no obligation to purchase any treatment after your consultation.
In order to manage some conditions online, we are required to inform your GP about the medicine you have been prescribed. This will be clearly highlighted during your consultation. We will not contact or share this information with your GP without your consent. You are required to provide consent each time you order, so you remain in full control of when we contact your GP on your behalf.
Your Anytime Doctor medical record is confidential and securely stored on our UK data servers. We will never share your details unless you expressly ask us to do so.
How quickly does Propecia (finasteride) work?
One of the most common questions patients ask is how effective is Propecia (finasteride). As with any medication, different people will respond in a different way. However, based on clinical evidence here are some basic guidelines of what you can expect.
From day 1: Propecia begins working to lower DHT levels.
3 months: You may notice that Propecia is starting to slow down hair loss.
6 months: You may see evidence of less hair loss. That's a success. Thanks to Propecia, you may actually begin to see some regrowth of hair.
9 months: If treatment is working for you, at this point you should be maintaining the hair you have. You may even grow back some of the hair you've lost.
1 year: By now you'll know if the treatment is working for you. If it is not, further treatment is not likely to help.
If you stop taking your hair loss medicine, you will gradually lose the hair you have gained within 12 months of stopping treatment.
How effective is Propecia (finasteride)?
A 5-year clinical study indicated that two thirds of men who took Propecia regrew hair, as measured by hair count. All of the men in the study who were not taking Propecia lost hair. It normally takes three to six months of using Propecia before any effect is seen, and the balding process will normally resume if treatment is stopped.
What is the difference between Propecia and finasteride?
Propecia is the brand name for hair loss treatment medicine containing the active ingredient finasteride. A brand name is assigned to a generic medicine by a pharmaceutical company for marketing purposes, usually to make it more memorable.
Finasteride is the generic medicine name (official medicine name). It is medically identical to Propecia.
Can women with hair loss use Propecia (finasteride)?
No, Propecia (finasteride) is limited to use in men only.
Women can also suffer hair loss, especially those with many relatives who are also prone to losing their hair. The female pattern sets in at a later age than in men and is usually limited to the top of the head. Total baldness is rarely seen in women. The only treatment licensed for hair loss in women is Regaine for women.
Regulatory Information
Last reviewed & updated  16/02/2020   Authored  14/09/2009
How our service works
1

Complete a free online consultation

2

Choose your preferred treatment

3

Prescription issued by a GMC registered doctor

4

Medicine delivered the next day
Why choose Anytime Doctor
UK based doctors and patient co-ordinators
Genuine & licensed medicines only
No hidden fees
Free discrete delivery
Genuine medication prescribed and dispensed by UK GPs and pharmacy
Free next day UK delivery
Discrete service, no face to face appointments needed
View Treatment Options